Welcome to www.BlackMouthCur.com
The purpose of this website is to promote and preserve the Original Black Mouth Cur (BMC) by providing accurate breed information and by showcasing exceptional kennels and dogs. We respect what the old time breeders entrusted with us, and in return, we strive to honor their trust by maintaining the high standards they set.
Encouragement is given to breeding for the complete dog, a dog that is multitalented. Primarily BMCs are herding dogs able to hunt big or small game, and still be loving, gentle family dogs willing to protect the home.
A directory of owners and their dogs is included to encourage contact between individuals located near each other. Dogs from this list may also be matched for breeding. This in turn will assist in maintaining the high quality of the breed.
The kennels listed here breed for quality, not quantity, and do not breed for size, a certain coat color or ear shape, but for important aspects of the breed, like working ability, stable temperament, a strong desire to please their family, and for good health.
This website is best viewed using a 800 by 600 format.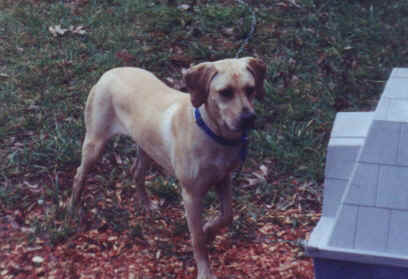 Fieldstone Flower: A very good example of a well balanced Black Mouth Cur