All-American Plush Stuffed Toy
If you require a puppy
That isn't noisy and doesn't chew,
Who won't pee on the carpet, or one who
Will never shed or make a mess,
And Will never bite under severe duress,
There's only one breed that will bring you joy,
It's the All-American Plush Stuffed Toy!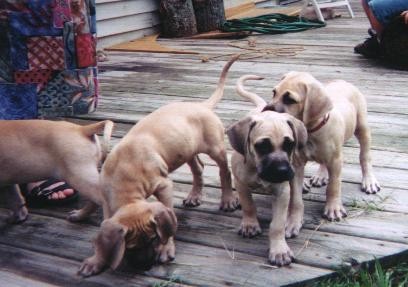 The breeders listed here are very serious about their dogs and do not claim to have dogs that come preprogramed to never make a mess or already know how to behave under all circumstances. Their BMC pups are smart, healthy and very motivated to learn but you have the responsibility to teach them the proper behavior that is desired. A dog is only as good as the training you supply. If you don't teach, they can't learn.
Dog Hauling
Buckeye Dog Hauling
Mary Ann Janes
1121 County House Lane
Marietta, OH 45750
Phone 740-236-0578
e mail BuckeyeDogHaul@aol.com