Hog Island Kennel, Md


If Better is Possible, Good is Not Enough!
Established 1996

UKC registered Black Mouth Cur Kennel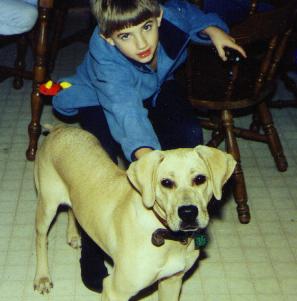 Heart adj. The ability or quality of mind to face hardship or danger in the performance of duty; (courage, integrity, or resolution)
Hog Island Kennel is located in Preston, Maryland and is dedicated to producing the finest quality Black Mouth Curs possible. We specialize in obedient, super athletic Black Mouth Curs who have strong work ethics.
We do this by line breeding the finest example of the BMC we have seen to date; Rathke's Reno. He has an excellent temperament, being extremely friendly to children, puppies and adults. He was worked on hogs with outstanding results and his Heart has been proven beyond any doubt.
Our dogs are raised in a family atmosphere and socialized by myself and my three sons; Skyler, Michael, and Justin. Our dogs receive only the finest quality care. We are a small kennel and only have a few puppies each year. We stay in contact with the new owners and can give you their names and phone numbers as references. Because of the limited availability, it is recommended that you make reserve a puppy ahead of the eight-week adoption date.
Maggie
My first black mouth cur was Maggie. I did a lot of research and settled on the black mouth cur as the perfect breed for a hunting and family protection dog. Continuing my investigation, I found the best line of black mouth curs were available in Virginia, practically right next door. I contacted the breeder and after satisfying him that I was a responsible dog owner/trainer, we agreed to my coming over and selecting a BMC pup.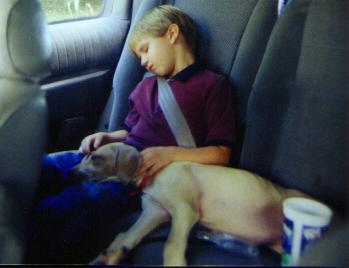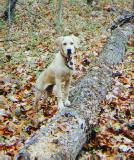 Looking over the litter of pups, it was hard to make a choice as they were all adorable, out going and friendly so I asked the breeder which one he would select if he were starting a breeding kennel.
He pointed out a golden ball of fluff and explained about conformation and how it limits the potential of what a dog can do. He went on at great length about how different jobs require different builds. That the size and shape of a good basketball player wouldn't be appropriate for a gymnast. Based on what I told him about hunting squirrels and raccoons, he pointed out tuck ups, chest, and legs, for lung capacity and speed during running. He also went over the builds of the other pups and why the biggest, most muscular pup wouldn't be as good a choice.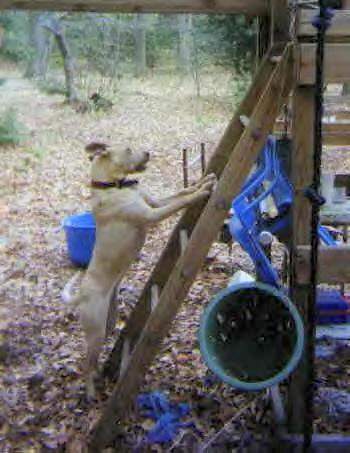 .

Maggie is a beautiful golden-yellow dog, with dark brown eyes that will melt your heart. She has perfect conformation with breathtaking movement. Watching her move, makes you think of a deer in motion, birds flying, or water flowing. Maggie is extremely protective of the family. Nothing goes near her family unless she first checks it out and gives her approval but she has never been much of a lap dog. Her main problem is she's a "workaholic". She has a nose as cold as any banjo bred coonhound and she'd rather hunt than play or cuddle. She hunts squirrels, raccoons and blood trails deer. She kills a full grown raccoon as easily as a squirrel.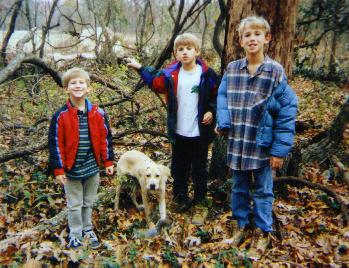 I was very pleased with Maggie's working and prey drive. She has tremendous hunting desire, toughness, and dedication but I wanted a dog that was more emotionally bonded to me. When I looked for my next dog, I wanted a "cuddler" and a dog not quite so territorial. So I talked to Maggie's breeder and explained what I was now seeking and he suggested a half-brother to Maggie. He has the same father, Rathke's Reno, but a different mother, which produced different characteristics in their puppies.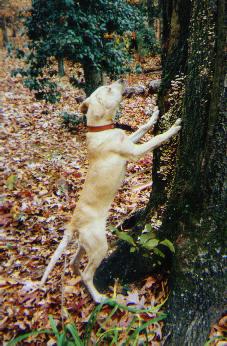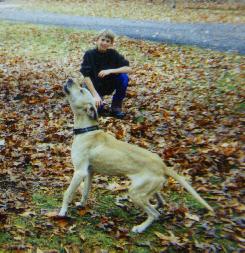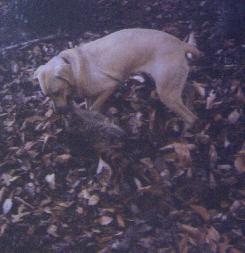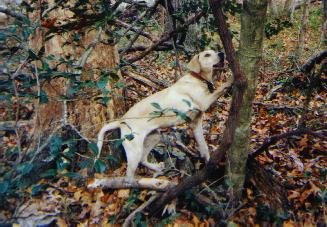 Grizz-a-lee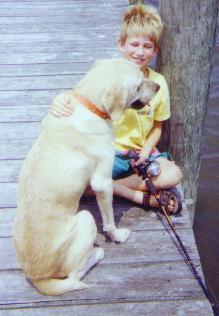 Our main male dog is Grizz-a-lee who has been a beloved member of our family since we obtained him as a pup. Griz has the same temperament as his father, Reno, being always friendly at the appropriate times. He has good common sense and is a hard hunting dog that stays treed either by himself or with other dogs.
Griz came from an outstanding litter and his littermates are all proven superior athletes. Old Yeller (AKA Whitey) became a mountain lion dog in Arizona, Cowboy is a extraordinary Hog Dog in Florida and Georgia, Piper is working rough cattle in the rugged California mountains, Dancer is an all around athlete on squirrel, raccoon, sheep, goat, cattle, and is working on bear.
Grizz's mother is TLS Delight. It is rare that a female starts a line of dogs. Delight is that exceptional female that is a foundation for at least four breeding programs and she's still going strong.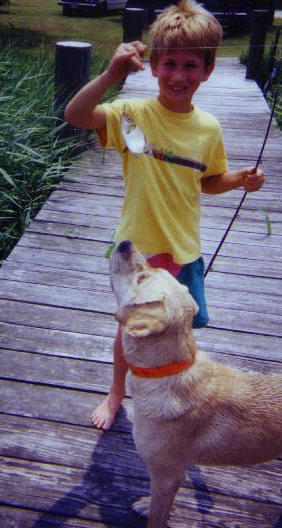 Grizz-a-Lee has an unbelievable temperament and is extremely intelligent. He is such a sweet, happy dog; he's worn his tail down to a nub wagging it so much (A natural bobtail). A total mush that shoves the whole front end of his body into your lap while wiggling his butt in the air. He begs to receive hugs and get his belly rubbed but is also very good at reading body language and knows when to just lie quietly next to you. He has never demonstrated any dominance, food, or toy aggression whatsoever. Anyone can put their hands in his food dish while he's eating without him growling. Grizz has no problem with cats (an important point with the wife) other dogs, or people. Grizz is a natural retriever and loves to fetch whatever is thrown for him he has retrieved sticks, balls, and logs thrown into the river. If he can get a jaw hold on it, he'll bring it back. When hunting, Grizz is very intense and has never backed away from anything. He will hunt alone or as a team player, but if attacked will protect himself and when the other dog leaves him alone, he is willing to be friends again.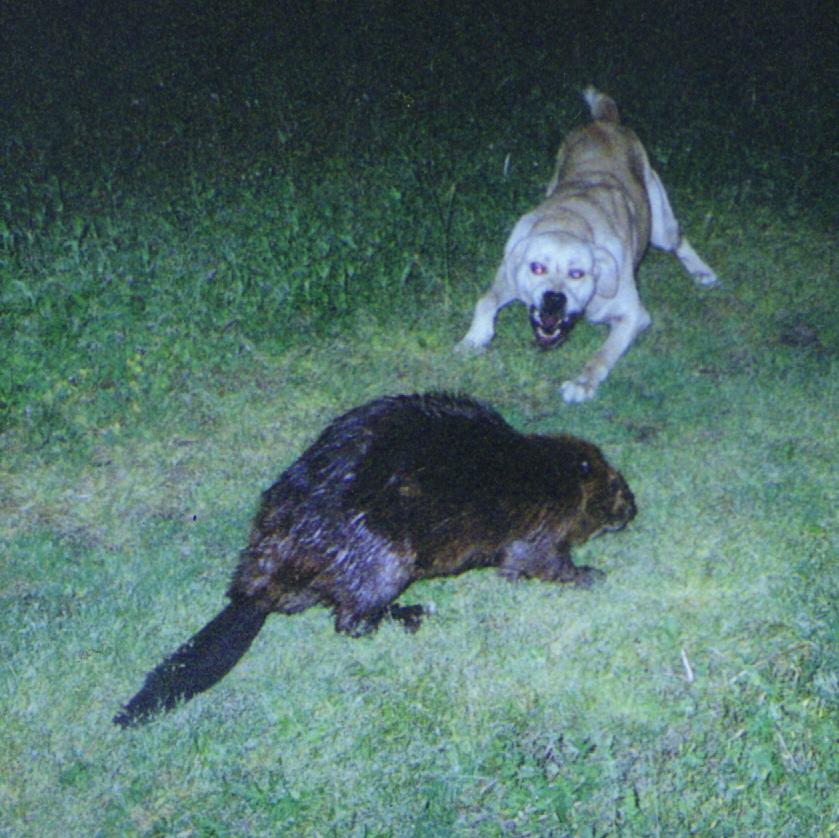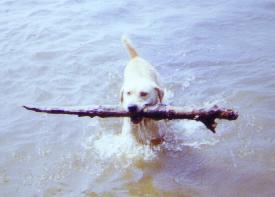 Both Maggie and Grizz-a-Lee are such outstanding dogs that I decided to breed the two of them and see how their puppies would turn out. Both litters were phenomenally successful. I kept a female pup from the first litter for my son to raise and she has combined the best characteristics from both parents. She has Maggie's stunning good looks and her father's perfect BMC temperament. If my son wishes to raise a litter of pups, I'll recommend going back to her parent's breeder and following his recommendation for an outstanding stud dog after Cheyenne has proven her hunting ability. Cheyenne already hates squirrels, and raccoons are also on her lunch menu.
Cheyenne Dreamcatcher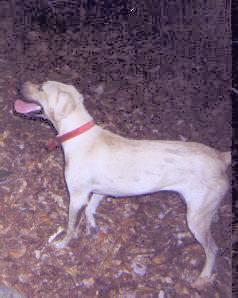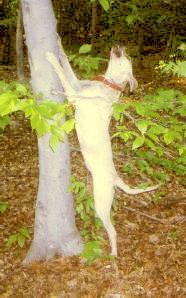 Cheyenne is a wonderful dog. Extremely game minded but also very easy going around dogs and children. At Hog Island Kennels we feel that in addition to being good hunting dogs, they should also provide obedient companionship for the whole family. We take temperament very seriously because with a breed of dog as fast and as powerful as the Black Mouth Cur, you want them to be as well mannered as possible. Our dogs are an extension of the family and go with us almost everywhere. Their elegance and good nature coupled with their obvious muscularity always impresses bystanders.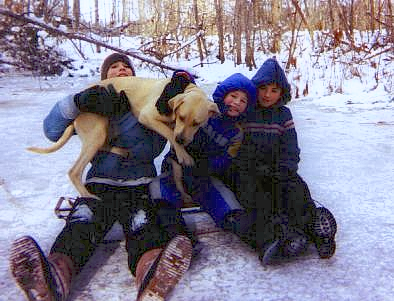 For further information;
Hog Island Kennel
Bruce Golt
20626 Hog Island Rd.
Preston, Md. 21655
(410) 673-7531
No matter what happens, our cur dogs stick with us.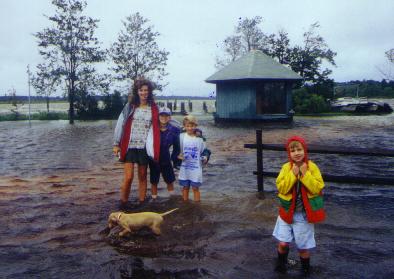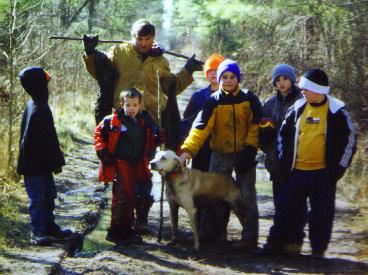 "Dear God, Please help me to be the person my dog thinks I am."