River Bend Kennel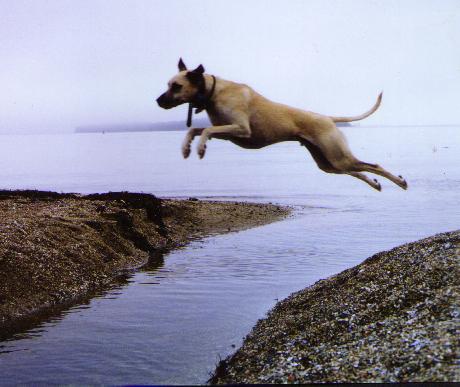 "Do not seek to follow in the footsteps of the men of old: seek what they sought." Basho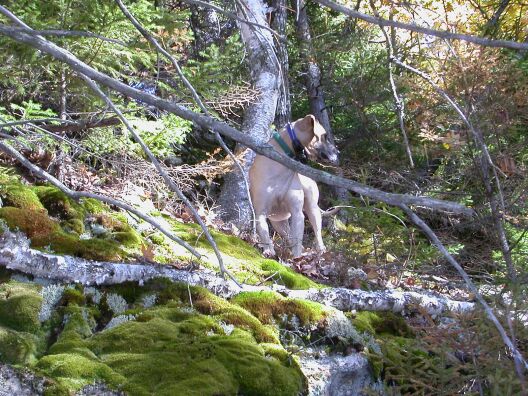 Welcome to River Bend Kennel! There is a combined forty years of dog and hunting experience that Lisa and I bring to River Bend Kennel. Our kennel is small but dedicated to preserving the working characteristics of the Black Mouth Cur. With us, this is not a business, it is our hobby. We treat our dogs as extended members of our family. Our dogs have annual physical exams, are up to date on all shots, and are on a preventive system against heartworms, Lyme disease, and any parasites.
We have tried several hound and cur breeds and almost every hound or cur cross breed used for hunting and found in terms of trustworthy temperament, high intelligence, a strong desire to please, and health, the Black Mouth Cur is the best for us. Our males and females have been selectively chosen from a large choice of dogs that have demonstrated outstanding working ability, superior speed, agility, and above all Heart.
Our kennel is based on a blend of the Weatherfordís Ben line and Ladner BMCs. They are the best working bloodlines at present in terms of stock dogs, big game and versatility. Our theory is you can only produce the best if you start with the best. Each dog in our kennel has an impressive pedigree from incredible working dogs and have been tested thoroughly in several different types of competitions. Not just one type. Our dogs have demonstrated their working abilities consistently day after day. We donít breed for color but our dogs are buckskin or red.
Some of the Black Mouth Curís attributes are;
Sound Temperament; Because BMCs form such a strong bond to their owners, they usually make buddy dogs, riding around in the truck whereever their owner goes. BMCs have an intense desire to please their owner. Dogs are selected that not only can be aggressive at the correct time but they can still be totally under their ownerís control even in the middle of a bay up.
Intelligence; The Black Mouth cur is one of the most versatile breeds able to do a wide variety of jobs, not because of their instincts but because they learn most tasks so easily. This was developed through the simple process of elimination. A dog that didnít learn how to handle rough range cattle, wild hogs, bears or cougars the first time didnít get a second chance to learn.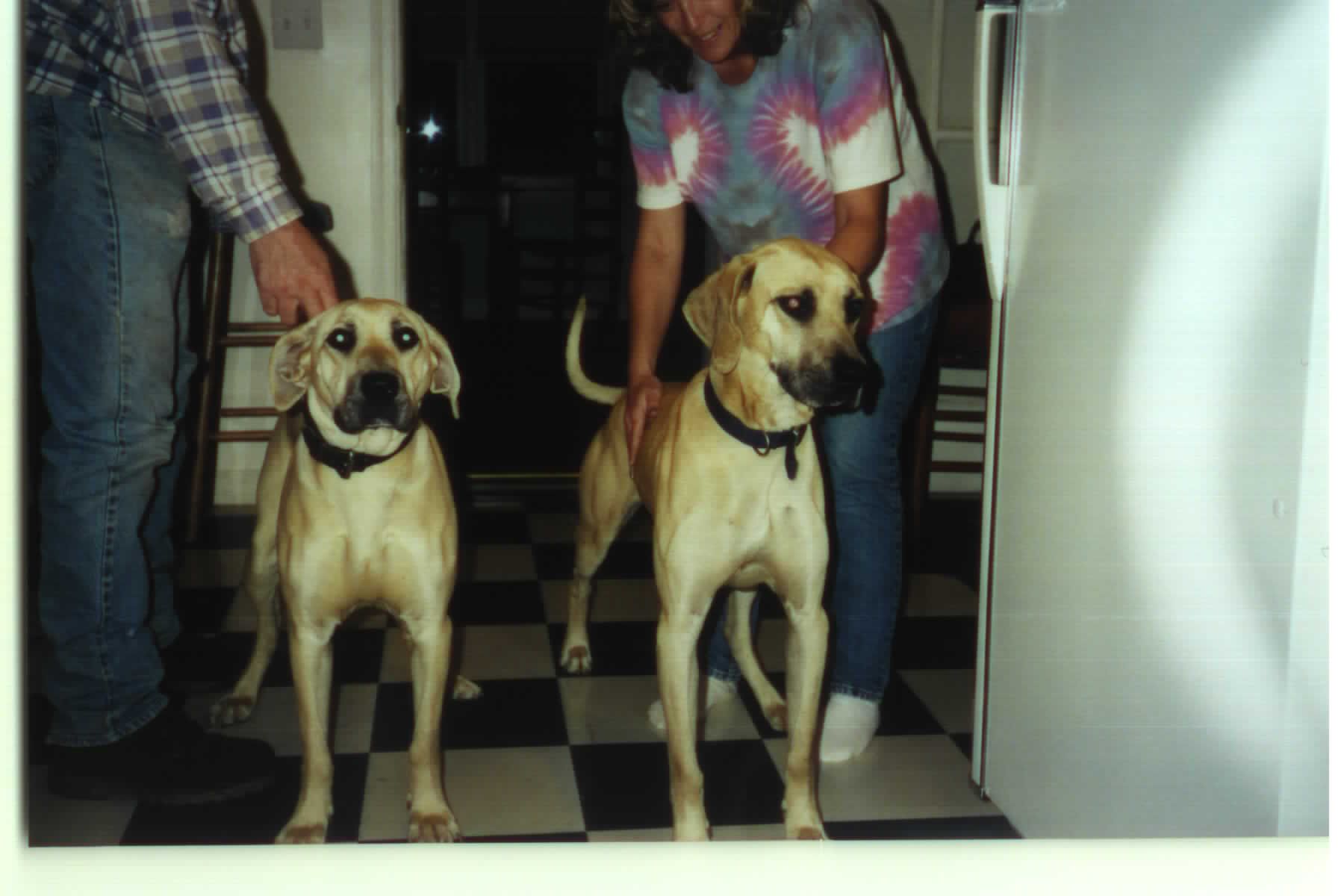 Easy Maintenance; With their short glossy coat and clean habits, BMCs are hardly noticeable in the household. This is fortunate because most BMCs donít like to be separated from their family.
Trustworthy; It has been said and proven many times that a BMC would give itís life for you. Those who own one know this isnít a brag, just simple fact. If the crunch comes I want a dog that stands courageously beside me, not running away leaving me alone. At the same time despite their immense strength, an adult BMC will play gently with pups or children.
Heart; Itís not a desire to fight, which is gameness. Itís more a desire to do an assigned job despite any pain or exhaustion because of an overwhelming desire to please. Itís the ability to bring up the last reserves of strength to protect a family member when there shouldnít be anything left to give. This is one of those words thatís hard to define and can only be understood by experience.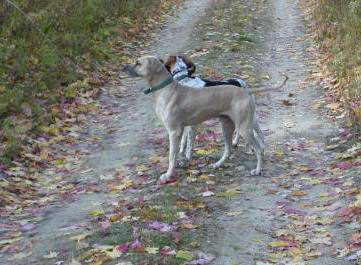 My breeding program
I primarily hunt bear and other big game so I don't breed for a dog that hunts small tree game although my dogs will if I ask them. I don't select for house pets. I want a long range hunting dog that will work a cold track and stick to it even if it takes days in very harsh weather to find the game. The dogs in my kennel pull hair at the bay and won't leave a fight because the game became too aggressive. We have a small kennel so I can hunt and evaluate all my dogs and the few litters raised each year for our personal use. If there are any left over they will be sold to approved working homes only and we reserve the right not to sell a pup to just anyone. We take pride in breeding with knowledge and integrity for the "Total dog", well balanced in all areas, temperament, intelligence, health and a working conformation as defined by UKC. All puppies are vaccinated, dewormed, socialized, and evaluated prior to their pickup at eight weeks of age. We try to match the puppy to the new home in terms of ability and personality.
A $100 non-refundable deposit is recommended to hold a choice pup as most of our pups are sold by reservation only.
Now allow me introduce you to our four legged family.
Our Masculine Boys
WBI & WBII FS Riverbend's Yellow Bullet

Luck is when opportunity meets preparation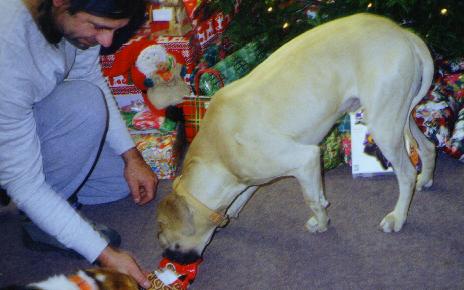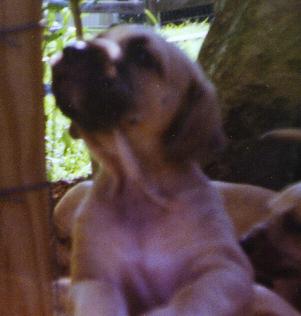 Bullet is one of those dogs that show up once in a lifetime. His parents are Rathke's Reno and Fieldstone Flower and they are both outstanding dogs so he comes by his abilities honestly. He's smart, obedient, and he's my best friend after my wife, Lisa. I have been in some very dangerous situations and I can always count on Bullet to be with me no matter how ripped it gets.
Bullet stays in the house except when he's out playing or hunting with me. We ride around in my truck and when I have to go into a store, I never worry about someone touching "our truck". Bullet is the best auto security system I've ever had.
Bullet also likes to play frisbee and understands spoken language at the level of a six year old. Lisa and I used to be able to spell out words and gets around Bullet that way but he's become a better speller than our children or we are. Ha-Ha! By the way, did I mention Bullet lives in Maine and loves to play in the snow?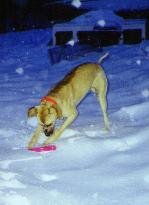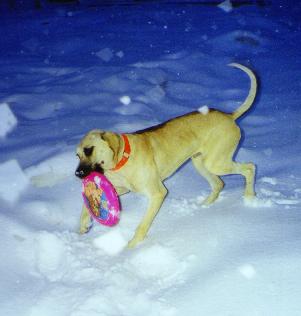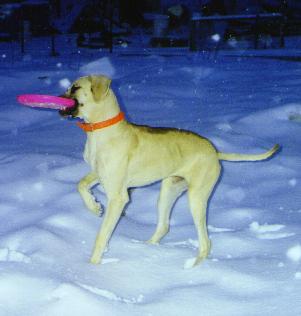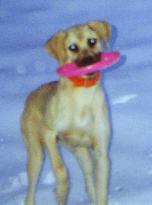 Bullet has excelled in herding cattle; gathering, driving, or penning. He'll work the head or the rear, whatever you want. He also will hunt raccoons, bear, or boars. What I like best about Bullet is his strong desire to please me. If I want him to bay, that's what he does. If I want him to catch, I say the word and whatever it is, no matter the size, he'll catch it.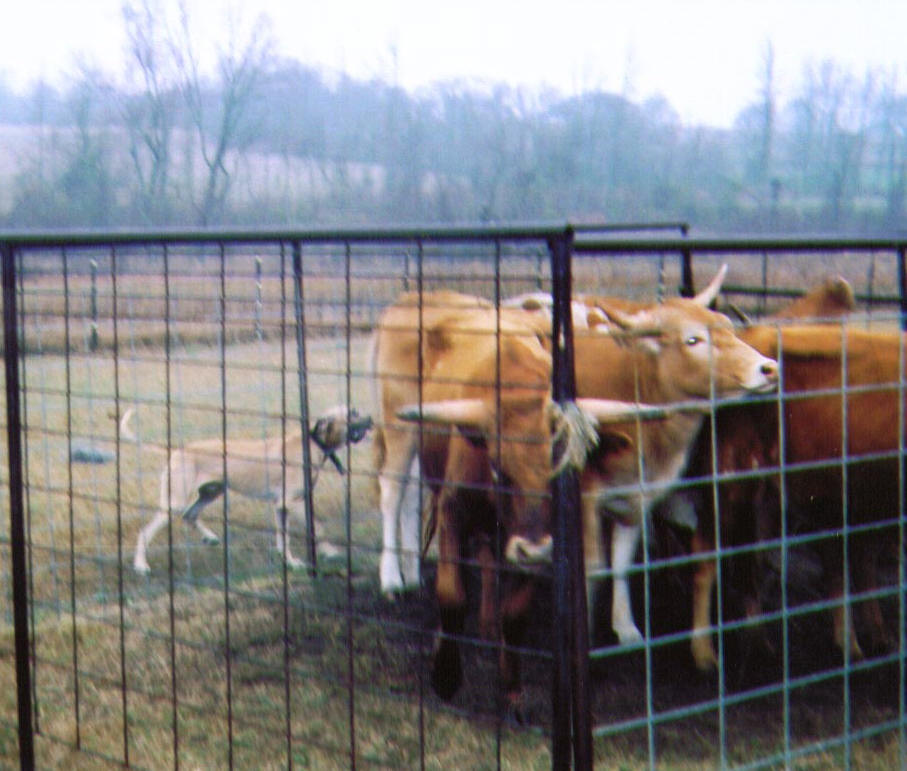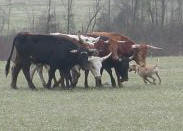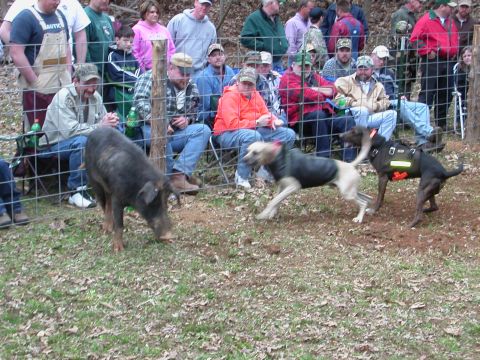 We have gone to various competitions, and Bullet has never failed to impress people. He has several titles in a variety of fields. Bullet has WBI and WBII titles with the International Catchdog Association. He works well either alone or in concert with another dog even if he hasn't met him before the event.

WBI FS River Bend's Red Rocket Tim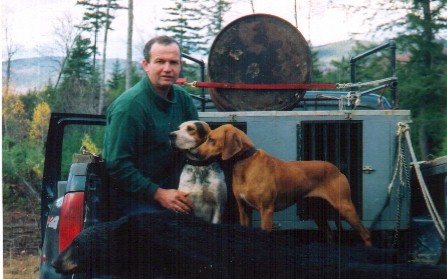 Tim is one of those dogs that if a large group of friends want to go hunting together, he would be the first dog chosen to go. Extremely easy going with other dogs and people, on game he is intensely focused and won't leave unless called off. He can run a track twelve hours old and put fur at the end of the trail. He has received a ICA title of WBI. He has the best temper of any BMC I've seen so far and is especially loving towards children.
Stripe
A great dog is not a matter of accident; it is a thing to be waited for,
to be ready for, and when you see it, trained and developed.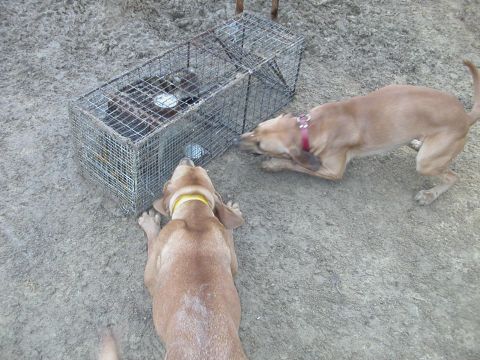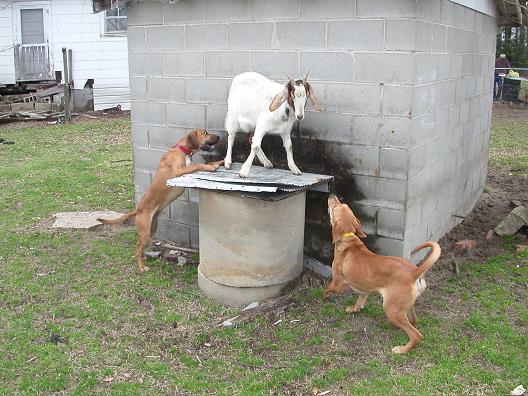 Stripe is Bullet's grandson and acts and looks in his build like a Bullet carbon copy. Their main difference is Stripe is not as possessive as Bullet is about my truck or person. Stripe has been on Raccoon, goats, hogs and bear with great results.
Left Eye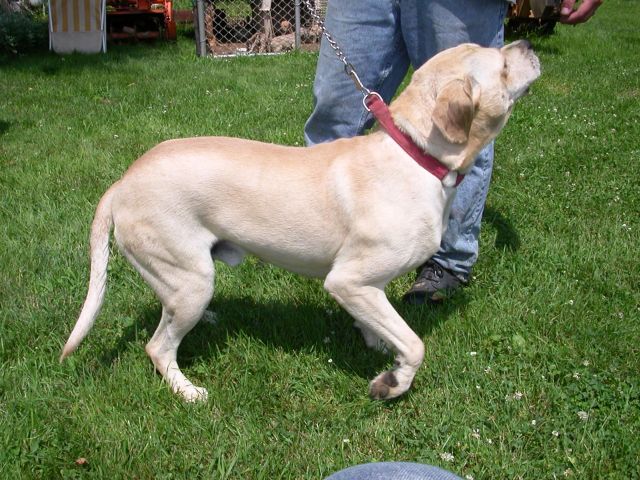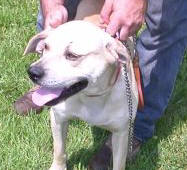 Lefty takes after his father, Bullet, being very well built with excellent people skills. He is good natured around other dogs and is strongly game minded. The more the game fights, the better he likes it. His draw back is that he likes big, aggressive game and has little interest in small game. Unlike some BMC dogs which will check back and see you every half hour or so and bark up a tree at squirrels, Lefty is going to stay out until he finds a bear at the end of the trail and will hold the bear until you get to the bay up which is what you want in a bear dog. He's a big, square headed dog that has plenty of grit and drive.

Our Feminine Girls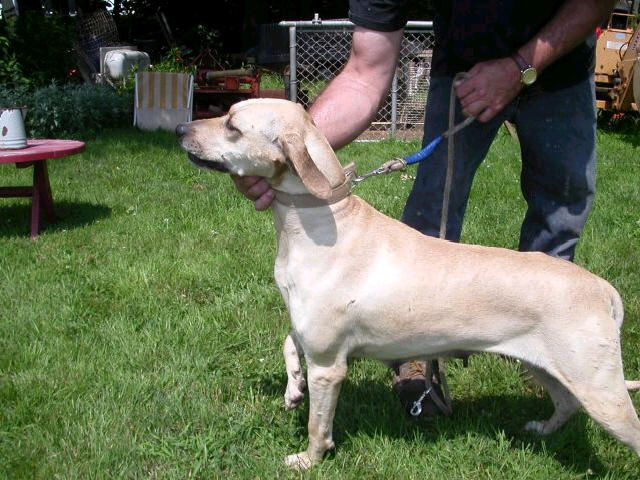 Cindy
Cindy is a well built Ben and Ladner cross bred female. Cindy is a excellent bear dog, very aggressive. Cindy hunts well alone or in a pack. She will tree anything from squirrels to coon and bear, and she will also bay up a bad boar.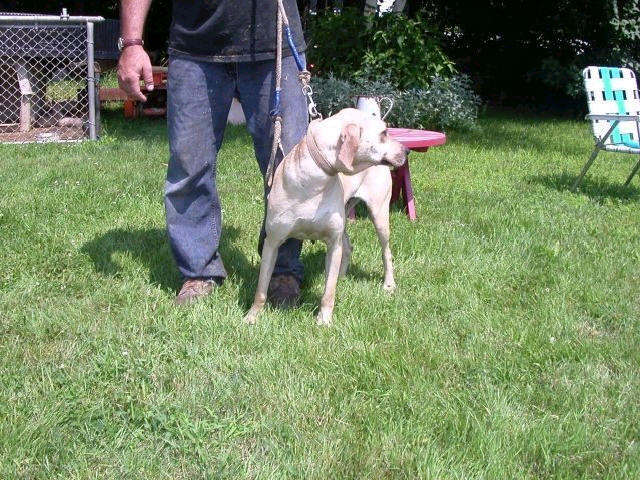 Mahogany
Mahogany is a daughter of Tim and Spooky. Spooky is one of the classiest females I have seen and she has really good conformation. Tim has the best manners and the polish I like on a hunting dog. Mahogany is very well
built like her mother and has her father's hunting abilities in a nice size package. Mahogany is very aggressive and extremely fast. She is willing to hunt anything that moves, but prefers game that fights back hard. It takes a good size hog or bear to make her bay because she loves to catch.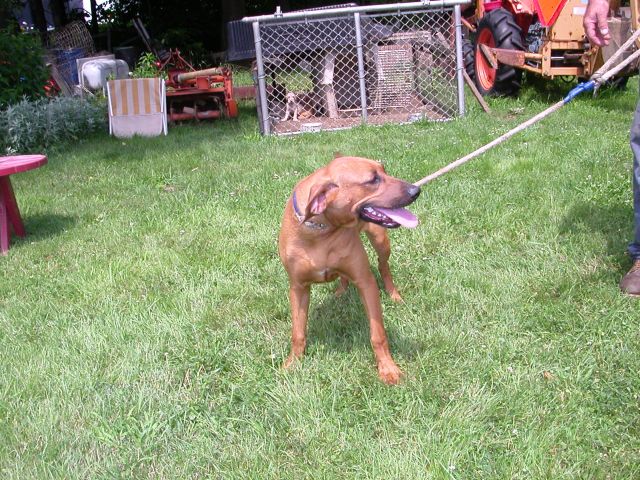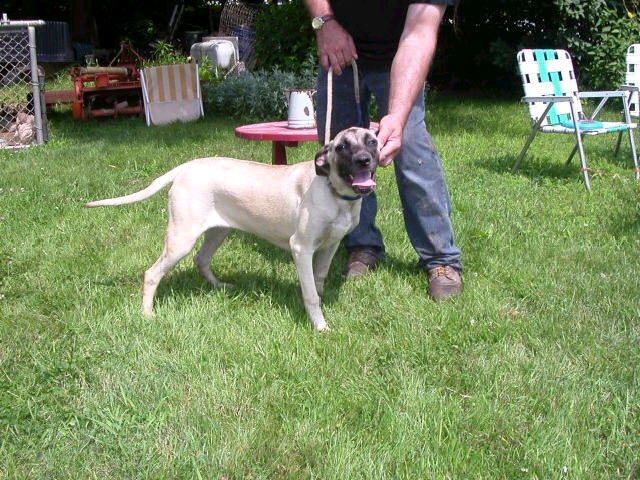 Tammy
Tammy is a daughter of Bullet and Lulu (Lulu is a direct daughter of Eddleton's Mitty Mutt). She is very aggressive on game but loves people, especially babies.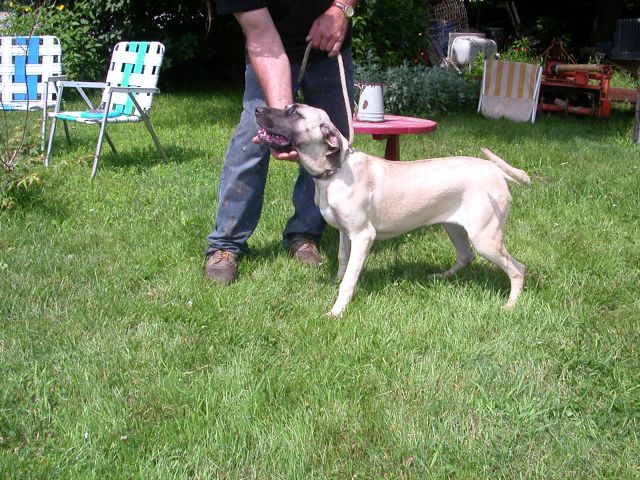 Some Friend's Dogs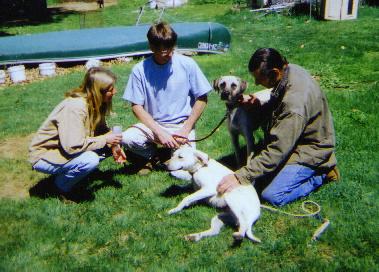 Meg and Will Burden, Winston's parents (LuLu and Bullet) and John Ames. Winston is the dog featured at the top of the page jumping. Winston is very athletic and can jump, flat-footed, up to face level, kiss a person on the face and return to the ground without touching that person's body before most people can react. He runs and pulls with a sled dog team in the wheel position. He's extremely strong and has never tired out. His biggest drawback as a sled dog is if he sees a squirrel, the whole team is going squirrel hunting. : )
Maxie Anderson
Mary Ellen's pup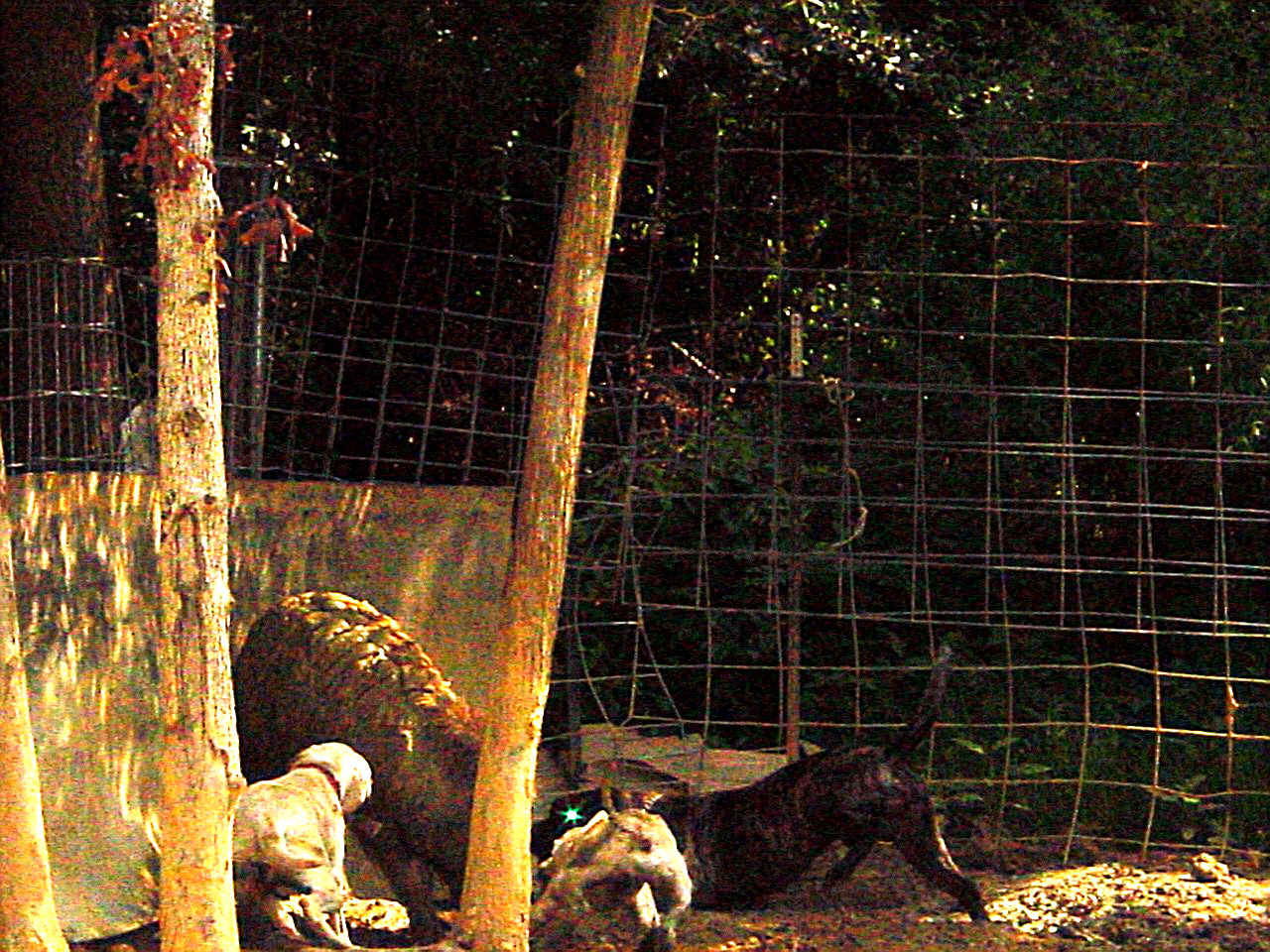 Art Parker's Pup from Bullet and Dancer
If you have any questions or comments feel free to contact us at:
River Bend Kennel
John and Lisa Ames
P.O. Box 632
Norridgewock, Me. 04957
(207)634-5110