Ladner Black Mouth Cur


The Ladner Black Mouth Cur is the ultimate tree dog for raccoon and squirrel. These dogs have been in the Ladner family for centuries and were probably the first dogs of this type to be called Black Mouth Curs.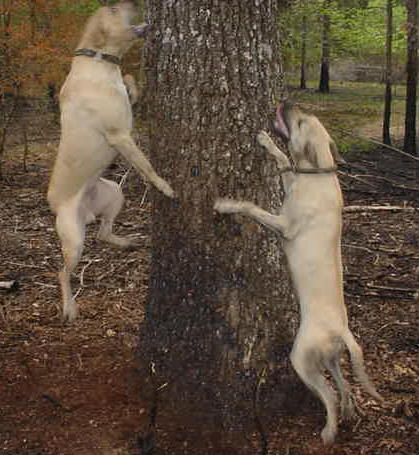 NATIONAL KENNEL CLUB REG. U.S. PAT OFF.
1556 CHERRYBROOK DRIVE Tel- 423-938-9895
KNOXVILLE, TN. 37912

NKC BREED STANDARD FOR THE LADNER BLACK MOUTH CUR
THESE STANDARDS WERE ADOPTED THROUGH THE MAJORITY INTERESTS OF THE BLACK MOUTH CUR, IN THE HOPE OF IMPROVING THE VERSATILITY OF THIS OLD LINE OF TREE DOG. THESE ARE GUIDELINES THAT SHOULD HELP BUYERS AND SHOW JUDGES TO FIND THE BASIC POINTS DESIRED. WE HOPE TO KEEP THE ORIGINAL LINES AS DEVELOPED BY L.H. LADNER AND OTHERS THAT HUNT THIS FINE LINE OF DOGS. THE DESIRED RESULTS WILL INCLUDE THE DESIRED APPEARANCE AND THE DESIRE TO READILY TREE SQUIRRELS, COONS, BOBCATS, AS WELL AS WORK WELL ON BEAR AND WILD HOGS.
GENERAL APPEARANCE AND COAT 10 POINTS
A WELL BALANCED, SHORT HAIRED CUR WITH PREFERRED COLORS OF YELLOW, REDDISH YELLOW, AND BLACK SOME WITH WHITE POINTS. THE EARS SHOULD BE SHORT BUT HANG DOWN AND THE TAIL SHOULD BE OF MEDIUM LENGTH NOT BOBBED.
HEAD AND NECK (Teeth, Jaws, Muzzle, Ears, and Eyes) 15 POINTS
THE HEAD SHOULD BE WIDE, FLAT, STRONG JAWS, WITH STRAIGHT WELL MATCHED TEETH, OVERBITE AND UNDERBITE IS A FAULT. MUZZLE WITH BLACK PREFERRED: DARK EYES AND A BLACK MOUTH WITH NO LOOSE SKIN IS VERY DESIRABLE.
FRONT QUARTERS (Chest, Shoulders, Front feet, & legs) 15 POINTS
DEEP BROAD CHEST SHOWING PLENTY OF LUNG SPACE, SHOULDERS STRONG AND MUSCULAR, LEGS STRAIGHT OF MEDIUM LENGTH, FEET CATLIKE AND WELL ARCHED, FEET THAT TURN IN OR OUT, OVERLY LARGE OR SPLAY FEET IS A SERIOUS FAULT.
HIND QUARTERS (Hips, Back feet & legs, and Tail) 15 POINTS
HIPS AND BACK SHOWING GREAT STRENGTH WITH GOOD MUSCLE TONE, BACK SLIGHTLY ARCHED, BACK FEET AND LEGS SHOULD BE STRAIGHT AND WELL MUSCLED SHOWING STRENGTH & ENDURANCE, TAIL OF MEDIUM LENGTH CARRIED WELL UP. NO BOB TAILS.
SPECIAL CHARACTERISTICS OF BREED 15 POINTS
THE BLACK MOUTH CUR SHOULD APPEAR VERY ALERT, WELL MUSCLED, EAGER TO PLEASE MASTER, BUT NOT TOO FRIENDLY WITH STRANGERS. MALES SHOULD WEIGH FROM 40 Ė 55 LBS AND 20 TO 26 INCHES TALL: FEMALES SHOULD BE ABOUT 10 LBS AND 2 INCHES SHORTER. OVER AND UNDER SIZE IS NOT A FAULT AS LONG AS DOG IS WELL BALANCED.
GAIT AND MOVEMENT 15 POINTS
DOG SHOULD MOVE IN A FREE SWINGING GAIT INDICATING SPEED, STRENGTH, AND ENDURANCE. THE HEAD AND TAIL SHOULD BE CARRIED ERECT. JERKY OR AWKWARD MOVEMENTS A SERIOUS FAULT.
TEMPERAMENT 15 POINTS
THE BLACK MOUTH CUR SHOULD APPEAR BOLD, CONFIDENT, TRUSTING AND LOVING WITH MASTER, NEITHER TOO SHY OR AGGRESSIVE, BUT OFTEN SHOWING DISTRUST OF STRANGERS. A STRONG TREEING INSTINCT AND COURAGEOUS FIGHTER OF GAME. DOGS MUST BE ABLE TO WORK WITH OTHER DOGS AS WELL AS ALONE. POSSESSIVE OF PROPERTY RIGHTS AND GOOD GUARD DOGS.
TOTAL ------------------------ 100 POINTS
Ladnerís Black Mouth Curs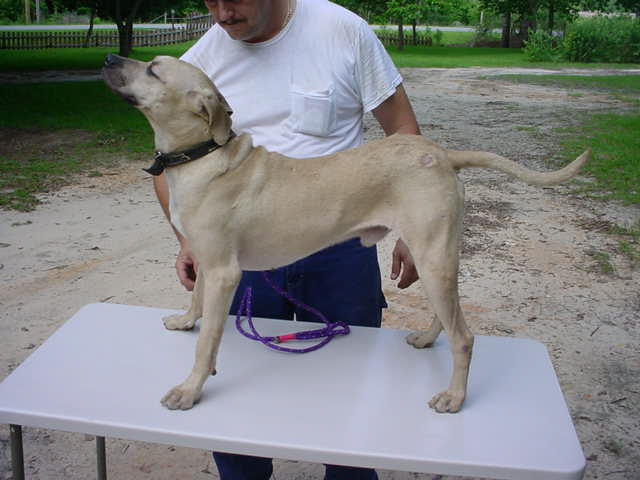 L.H. or Chris Ladner
1351 Gumpond Beall Rd
Lumberton, Ms 39455
(601) 796-2150
lhladner@netdoor.com

http://www2.netdoor.com/~lhladner/
Walters Black Mouth Cur Kennels
James T. Walters
20250-B 28th Street
Long Beach, MS 39560
Phone: (228) 822-0650
Pager:(228) 214-1936
E-Mail address: Brindle231@yahoo.com

http://waltersblackmouthcurs.homestead.com/
Southern Black Mouth Cur
Most experienced Black Mouth Cur owners and breeders know what to look for and expect from the Black Mouth Cur Dog. This standard may be used as a guideline for new and prospective Cur Dog owners and breeders and may be used as an aid for both novice and experienced alike, in picking out a new pup or selecting a mate for breeding purposes.
Hopefully this standard will help perpetuate the fine and unique qualities found in the Southern Black Mouth Cur and help improve and standardize the breed as a whole.
HEAD: Medium length, broad between the ears, more so in the male of the breed. Stop moderately pronounced, occiput visible. Muzzle should be of medium length, snippiness should be avoided.
MOUTH: Should be strong. Fangs should be thick, long and interlock. Flews should not be too pronounced.
NOSE: Well developed with relatively large nostrils, is always black.
EYES: Set apart, round and medium in size. Color of eyes may range anywhere between dark brown and yellow. Darker preferred, with a thin black line on the edge of the upper and lower eyelid giving the dog an appearance of alertness and intelligence.
EARS: Should be of medium size, set high and back, standing slightly outward at base then dropping with a sharp bend to the side with front edge lying closely to the head. The back edge should stand away from the head especially when the dog is at attention, helping to contribute to the dogís alert, intelligent look.
NECK: Strong, muscular, of fair length and slightly arched. A light amount of loose skin under the throat, but not to the point of being throaty.
BODY: Chest should be deep, wide and well sprung. Back of medium length. Rump should be set slightly higher than withers. Shoulders should be sloping. Front legs should be straight, strong, and set apart. Hindquarters should be well muscled and give the appearance of power and speed. Back legs should be set in a wide stance.
FEET: Should be large and compact, toes well arched, pads thick and tough, toenails thick and strong. Feet should be webbed. Hair on feet should be short and neat in appearance. Back dew claws, although not common, do occur and are acceptable.
TAIL: Of fair length and curved slightly. Should be held above the horizontal when dog is hunting or at attention. Tail should not be docked. Natural bobtail or half tail is not a fault, but should not be bred for as the tail is used for balance.
COAT: Golden-red is the predominant color. Red, reddish-yellow, yellow and light yellow are also fairly common. Red, yellow, buckskin or brown brindle; red or yellow ring neck (white tipped feet and tail with a white ring around the neck) and brownish red are other color variations.
May have white feet, white socks and white blaze. White should not cover more than one third of the dogís body. Roof of mouth, gums, and flews should be black. May have black muzzle or mask. Brown, black and tan, solid black, and black ring neck are colorations that occur in rare instances in the breed. These colors are acceptable and within the breed standard, however these colors should not be bred for.
SIZE: Females: 19 to 23 inches. Males: 21 to 25 inches (measured at shoulder).
WEIGHT: Females: 50 to 75 pounds. Males: 60 to 85 pounds. Ten pounds lighter or heavier should not be a fault as long as the dog appears balanced.
FAULTS: Too narrow or a clumsy looking head. Houndís ears, prick, or button ears. Eyes any color than brown or yellow. Weak mouth, undershot or overshot jaw. Too long or too short a neck. Body that does not look in proportion. Bowed front legs. Splayed feet. Flag tail. Long or curly hair. Merle, white or liver colored coat. Pink or brown nose. Pink roof of mouth.
Temperament
The Southern Black Mouth Cur should be even tempered, good with children, protective of family and property and wary of strangers. As the need to guard and protect comes naturally, no attempt to make these dogs mean should ever be made.
HUNTING AND WORKING STYLE
The Southern Black Mouth Cur is probably the most versatile breed of dog in existence today.
CATTLE: Must be able to hunt and find lost cattle, bay and move cattle where needed. The dog (or dogs) should stay out in front of the cows, leading where the handler directs. Should a cow break in one direction or another the dog closest to it must catch and release the cow causing it to rejoin the herd. The dog should be no rougher than necessary. This is instinctive behavior and should come with little or no training.
HOGS: Hunted alone, in pairs, or in packs, these dogs will circle to the left and to the right of the hunter. Should hunt out several hundred yards, depending on terrain, checking back with the hunter every ten to thirty minutes until a track is located. Nose to the ground on a cold track or nose in the air, winding a hot track, dogs will remain silent until hogs is located. Must turn, stop and keep hog bayed in one spot until hunter arrives. Some dogs may show tendencies to catch.
BEAR, COON, POSSUM: Silent trailer, working close to medium, checking in with hunter until track is located. Will open on tree and should stay put until game is shot out.
SQUIRREL: Working close, will locate squirrel and stay on opposite side of tree from hunter, barking steady until squirrel is shot out.
DEER: Will work in circles until deer is jumped or hot track is located, many times catching the deer without a shot being fired. If deer is not caught or shot, dogs should break from chase after about a half mile and return to hunter. These dogs will open on a hot deer track. On wounded deer, will work a cold track until deer is located.