Hutsonís Blackmouth Kennel
Home of the Ole Yeller Dogs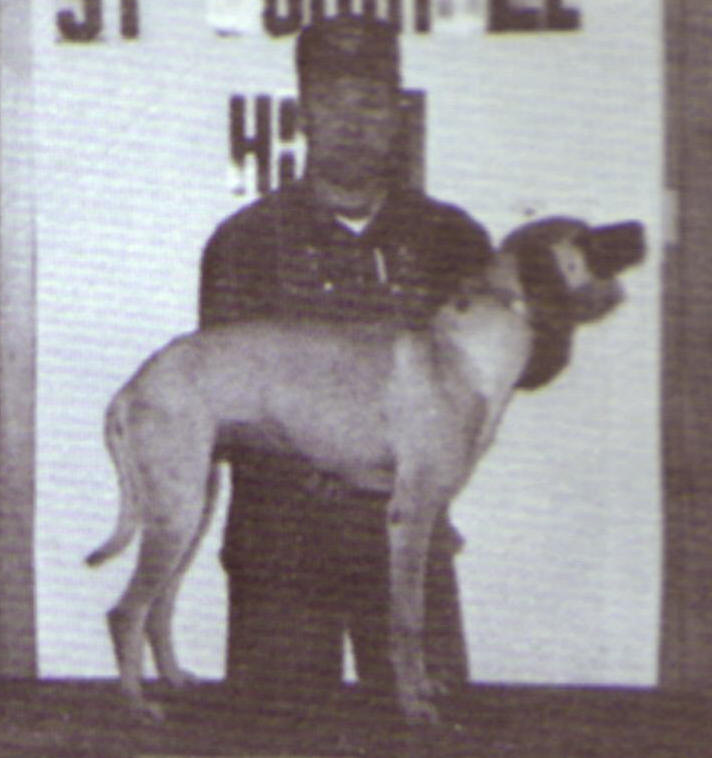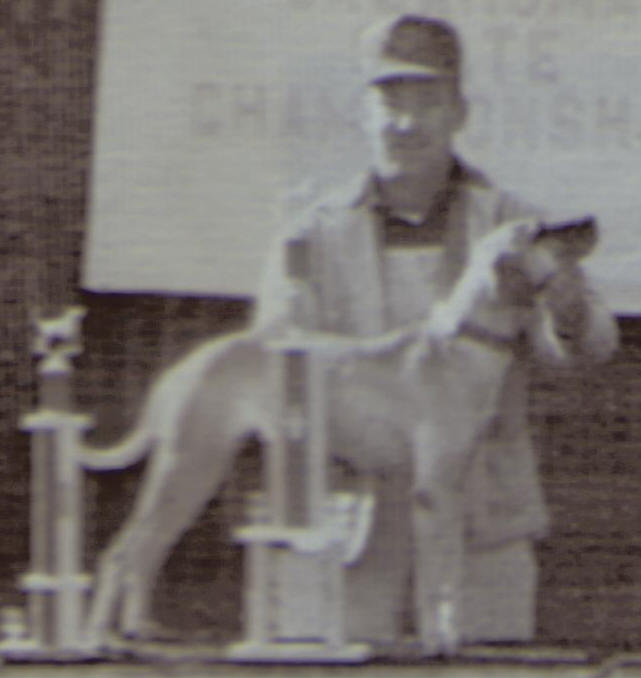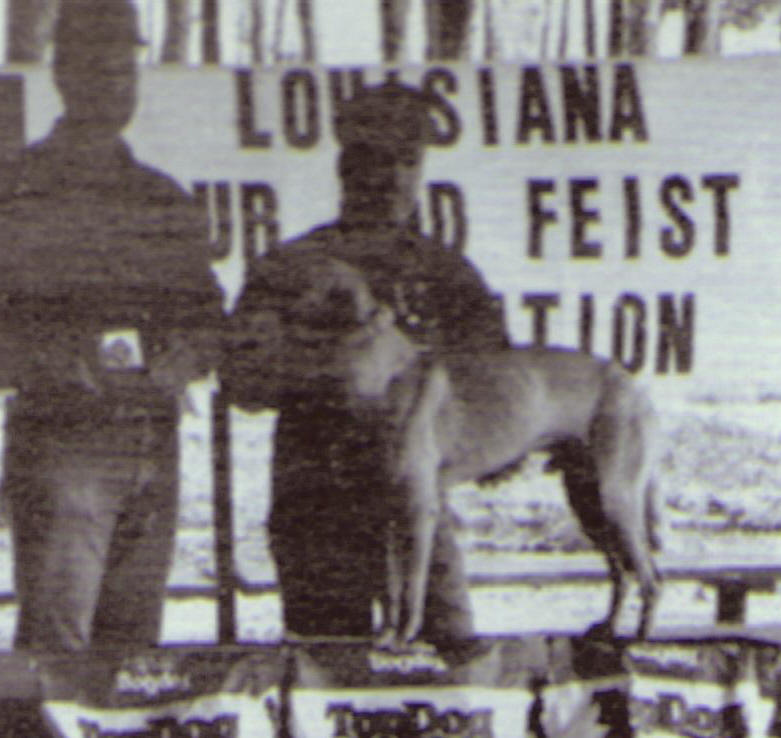 Thank you for your interest in my Yellow Black Mouth Cur dogs. I hope this webpage helps you to know more about the breed and our complete kennel operations.
We started out back in 1980, with the Pete Nolan strain of dogs, and have line bred a couple of out Ladner strain crosses. We take pride in breeding and training the Yellow Black Mouth Cur, keeping our #1 goal; to produce tree dogs that handle well; but in doing so keeping the breed pure.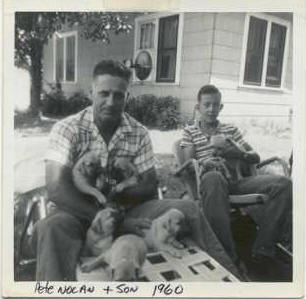 History
To my knowledge, no one has been able to trace the Yellow Black Mouth Cur back further than the late 1800ís when they were as valuable to the owner as their guns, back then they would use the same dog for working hogs, cows, treeing, as well as their protection. Iíve traced them as far back as 1948. I have pictures dating in the 1950ís and they look just like they do today. Whenever or however this breed came about it is one of the most intelligent breeds, Iíve had the pleasure to own.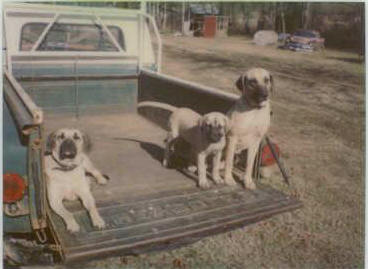 Pete Nolan and son 1960
Photo on right, taken December 14, 1983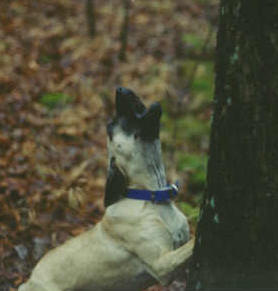 Breed


Our Yellow Black Mouth Cur will pass inspection with most or all registration clubs, and their breed standard. All of our dogs are currently registered with N.K.C.

Color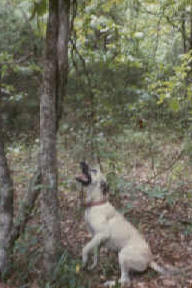 All of our dogs are yellow or sandy in color, with 98% having a black mask and ears.
Ears: Short, Cupped
Head: Short to medium muzzle with block head
Weight: Females 40 to 45 lbs, Males 45 to 60 lbs
Tails: All are full length

Nature


The Yellow Black Mouth Cur is the most intelligent breed of dog Iíve ever hunted. They hunt close to medium, but hustle like a bird dog. They hunt by sight, sound, and scent. Usually if trained properly they take voice commands, which makes it easy to hunt small patches of woods. They are very quick dogs enabling them to catch some game on the ground. These dogs are also used to work cattle and hogs. They usually bond to one master. People frequently ask "How are they around children?". Well, if they were raised around them they will be the best protection that your child can get, and will play like a normal kidís dog. But if your dog has not been around strangers, kids, or adults, they will not have anything to do with them.
Another question is "How are they on a track?". Well, speaking for my strain of dogs they donít open on track unless theyíre looking at the game. They donít waste their time on cold tracks. However they have the ability to wind their game at a good distance and go tree it. What I personally like about them the most is they hunt with you, not you with them. I never leave any of my dogs in the woods. When Iím ready to go, I say so and out we go.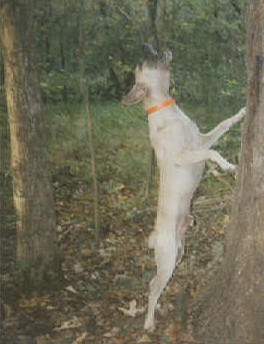 Training Program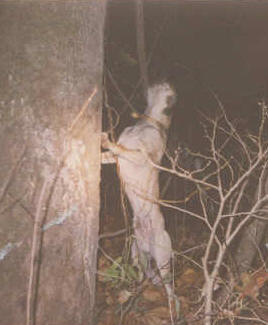 We have a very intense training program, starting at eight weeks old. We start working pups on treeing and basic handling. Then advancing them to our training ground where we use corn feeders making it possible to put the pups on game each time out. We train and hunt dogs 12 months a year, on coon and squirrel.


Kennel


Our Kennels consist of concrete runs under roof. Weíve learned over the years the hard way that having clean, sterile pens is a must for raising pups. We sterilize them twice a month, and clean them daily, which helps in providing you with a clean healthy pup. All pups at 8 weeks of age have been wormed properly, and has had 1 parvo shot, and 2 8in1 shots using only Fort Dodge brand vaccines, and only the best kennel supplies.

Shipping Procedures


Shipping your pup is very simple and upon receiving payment of pup and crate we make all the travel arrangements, then weíll call you with the information. If you wish not to purchase the crate, simply send a deposit (which is the cost of the crate) and return it in good condition and we will refund your deposit. Your shipping cost ranges depending on where you are located. Buyer is responsible for shipping expenses.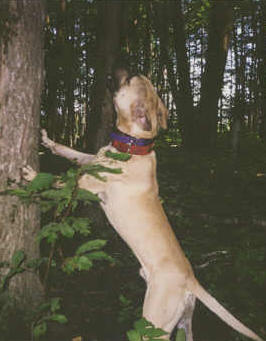 Competition Status


Our dogs are competed year round across the country in the larger hunts. We currently own several champions at this time that have proven themselves against the nations top dogs. No we donít win every hunt but we do very well. At this time weíve have dogs either win or place in the following states being state championships to world hunts; Arkansas, Indiana, Louisiana, Missouri, Oklahoma, and Texas.

Hutsonís Blackmouth Kennel
Joey Hutson
1239 Red Cut Loop Road
West Monroe, La 71292
Phone after 6 P.M.
(318)325-2866